Story from SouthernOregonNews.com about the Wild Rogue Balloon Festival in Grants Pass Oregon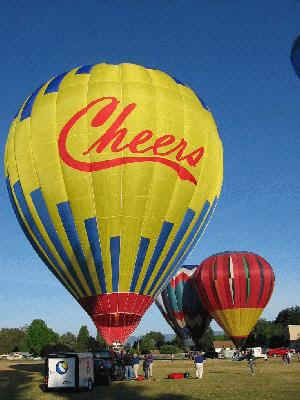 Ballooning Over the Wild Rogue River
By: Patricia Cruz
Grants Pass, Oregon - Before the morning haze had a chance to lift, the first launch of the 8th Annual Wild Rogue Balloon Festival was taking place. The RE/MAX Balloon, piloted by Darren Kling of Welcher, Ore. was the first to lift off from Paradise Elementary School in Grants Pass.
What an incredible site--nine brightly colored balloons, each about 105,000 cubic feet, all in the air by 7:05 a.m.
"17 Balloon Pilots and their crews will be participating in this year's event, coming from Arizona, California, Washington and Oregon," said Bill Woodhead, Wild Rogue Balloon Meister and Owner/Pilot of the WWJD (Walk With Jesus Daily) Balloon.
***More photos - Click here***
Nine Balloons, Pilots, Crew and the local media gathered behind Paradise school at 6:00 a.m. on June 4, to partake in the first day of the three day Balloon Festival. The Festival is being held at the All Sports Park with the exception of the balloon launching which takes place at 7:00 a.m. every morning from Paradise Elementary School.
The infamous "Night Glow" is scheduled to take place just before dusk. The afternoon events will start at 5:30 p.m. with kids kite making. Kite making has two purposes--first, it gives the kids something to do while the adults are listening to live music and second, it gives the pilots an idea of the wind conditions before take off at dusk--between 8 p.m. and 8:30 p.m.
"Hot Air Ballooning is the closest you'll ever come to heaven without actually being there," said Shelly Wakefield, Crew Member and wife of "Cheers" Owner/Pilot David Wakefield of Sacramento, Calif.
Contrary to popular belief, the beginning of human flight was not the Wright brother's first flight. The true beginnings of human flight with lighter-than-air craft was documented in Paris, France in early 1903 and provides compelling information of how powered flight came to be. It was later that year, December 17, the Wright Brothers made their historic flight.
"Early French balloonists carried fine champagne as a gift to local citizens who thought the huge, smoking objects descending from the sky must surely be demons and set out after them with pitchforks and other implements of destruction," said David Wakefield. "As a result, ballooning became known as the "Champagne Sport" and eventually led to the naming of my balloon-- "Cheers Over California".
Sunrise Surprise was exactly that--a surprise--according to pilot Russ Reichert. Reichert claims he bought his balloon site unseen in 1991 off the internet. The balloon arrived from Connecticut at a shipping cost of $300.
Five of the 17 balloonists participating this year are from Southern Oregon--Diamond Rogue, piloted by Tom Fisher of Medford and sponsored by Evergreen Federal Bank; Fire Dancer, piloted by Rex Johnson of Central Point and sponsored by Dutch Brothers, Sunrise Surprise, piloted by Russ Reichert of Grants Pass and sponsored by Home Valley Bank, WWJD, piloted by Bill Woodhead of Grants Pass and sponsored by Key Man and Jack Luce; and Sheep Thrills, piloted by Larry Sprague of Central Point.
"Pilot certification takes about a year and about 20 flights," said Wakefield. "I got my private license in 1999 and my commercial license a year later. There's a lot more to flying these balloons than people realize."
Balloons are aircraft, regulated under the same Federal Aviation Regulations as every other category. Balloons are aerostats, that is, static within the air. Once a balloon is buoyant, it moves with the air mass in which it floats, no faster, no slower, no different direction. The pilot has altitudinal control, and can alter the balloon's course by finding an air mass going in a slightly different direction.
"We have no idea where we're going to land, how long we'll be in the air or how fast we're going to go--everything depends on the weather," said Wakefield. "Immediately when we're up in the air I begin looking for a place to land and watching for the direction of the wind by looking for smoke stacks and flags blowing the wind."
A balloon has an envelope, basket and sometimes a burner and fuel system. The envelope is the fabric part of the balloon, the bag that holds the lifting gas. The basket (traditionally wicker) is the passenger compartment. In a hot air balloon, a burner hangs between the envelope and the basket. It burns liquefied propone gas (lpg) to make an intensely hot and long flame, capable of heating a large volume of air very quickly.
When preparing for take off it's critical the ambient temperature be 100 degrees below the temperature inside the top of the balloon. At 7:00 a.m. the outside temperature was 66 degrees. Cheers Over California took off when the temperature inside the balloon reached over 170 degrees.
From take off at 7:05 a.m. to a safe landing behind Master Cabinets at 7:45 a.m. Cheers Over California pilot and passengers drifted peacefully and effortlessly, experiencing little or no sensation of movement or height. Overlooking the magnificent Rogue River and watching from above, as the rest of the community of Grants Pass slowly awakened to another beautiful day in paradise.
Now that your awake don't miss the action at the All Sports Park. For more information visit www.wrbf.org