Tethered Hot Air Balloon Rides

Cheers Over California provides more tethered rides annually than any other hot air balloon company in northern California!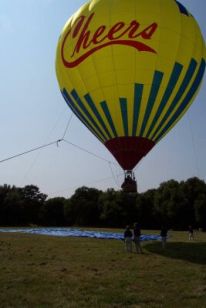 Tethering a balloon means that the balloon is anchored. To do this, ropes, or tether lines are run from the balloon itself to at least three fixed points. Generally, heavy vehicles such as 4x4 trucks or cars with trailer hitches are preferred. Once the balloon is secured it can rise and descend in a controlled area giving rides to spectators. Height of the ascent will be determined by the weather conditions at the time of the event.

Is there more than one type of tether?

There are several different types of tethered Hot Air Balloon operations. In most cases the balloon can be fitted with a banner over thirty feet wide for advertizing. First is a Static Display, where the balloon is inflated to attract people to the site. Tethered Rides is where the balloon actually takes spectators up to about tree top height (50-80 feet). Night Glow tether in which the balloon inflates after dark and entertains spectators with a light show, sometimes choreographed to music.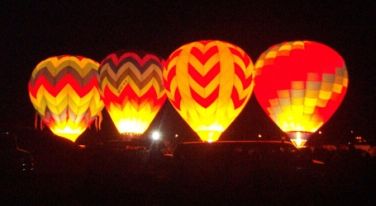 What is required for a Hot Air Balloon Tether?
The most important requirement is a circular area of at least 200 feet in diameter which is clear of power lines, light standards, trees, or other obstructions which may impede safe operation. Clean surface areas such as lawn, paved parking lots, etc. are best but not absolutely required.
What uses are there for a Hot Air Balloon Tether?
Everything from simply attracting people to your location to picnics, family reunions, company parties or corporate marketing and media events. The uses are limited only by the scope of imagination.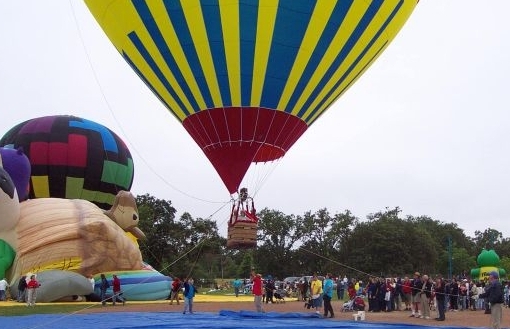 Contact us anytime for additional information, pricing and availability.
Contact Information:

Telephone:
916-922-9253

Postal address:
P.O. Box 661932
Sacramento, CA 95866-1932

Email: Cheers Over California