Tethering a balloon means that the balloon is anchored. To do this, ropes, or tether lines are run from the balloon itself to at least three fixed points. Generally, heavy vehicles such as 4x4 trucks or cars with trailer hitches are preferred. Once the balloon is secured it can rise and descend in a controlled area giving rides to spectators. Height of the ascent will be determined by the weather conditions at the time of the event.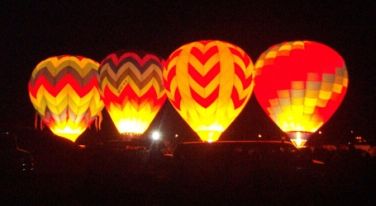 Is there more than one type of tether?
There are several different types of tethered Hot Air Balloon operations. In most cases the balloon can be fitted with a banner over thirty feet wide for advertising. First is a
Static Display
, where the balloon is inflated to attract people to the site.
Tethered Rides
is where the balloon actually takes spectators up to about tree top height (50-80 feet).
Night Glow
tether in which the balloon inflates after dark and entertains spectators with a light show, sometimes choreographed to music.