Up, up and away
By Sarah Sol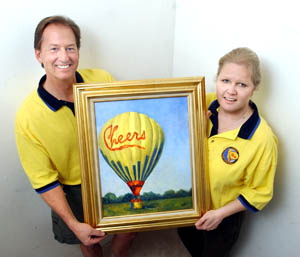 The view from a hot-air balloon can be spectacular, especially in a region like ours. Cheers Over California--a local balloon team that offers rides, crew training, and tethers at events like corporate picnics and family reunions--lifts off near the colorful farm fields of Woodland, the vineyards of Galt and the orchards of Marysville. Cheers owner and pilot David Wakefield fell in love with hot-air ballooning immediately (he and his wife, Shelly, even got married in a balloon). It's currently ballooning's off-season (because wind, rain and fog make it too difficult to fly regularly), but Wakefield said Cheers continues to train new team members. (For information, go to www.cheersovercalifornia.com.)
You bought your first balloon in 1999, just a few months after you were introduced to hot-air ballooning. Were you hooked right away?
Oh, totally. I was captivated. ... It was really kind of amazing 'cause I'd gone out to crew for another balloon repeatedly, and we got weathered out, and weathered out, and weathered out, and finally, we got some good weather, got the balloon inflated, and for all my trouble trying to help him before, he took me up and flew me. And I was just overwhelmed by it.
Was that the first time you'd been up in a balloon?
Yeah. ... Well, it was the second time I'd ever seen one, and the first one I saw was from an extreme distance. So, it was quite a thrill.
Is Cheers a team and a hobby or a business?
Well, it's actually both. We are part sport and part business. We do rides commercially, and we do commercial banner work, such as for Harrah's in Reno. We carry a banner for them. They sponsor us for the Great Reno Balloon Race. And when I say we're a team, our rallies that we go to--we have a specific rally schedule we follow throughout the season--we do have some competition. Like, Reno is a competitive event. But the team aspect is the fact that we need a crew to make this all work. Our crew helps put the balloon together, helps us get it inflated, and then they chase us once we take off, because we don't know where we're going to land. And in order to do that and have a good time, it really takes an effort where everybody works as a team and has fun together doing it. I think I have one of the best teams out there. ... We are constantly looking for new people to join the team. Not just for us, but for other balloonists in the area, as well. Everybody needs a good team, so we try to train people. Anybody that's interested can give me a call.
You conduct musical balloon night glows. What are those?
Well, I don't do very many of them. At the most, maybe three a year. Our primary one is at Grants Pass, Ore., and then we do one at Medford, Ore. I put together a musical score, and we have the balloons inflate just prior to sunset. And as it gets dark, the balloons are like luminaries. They glow beautifully in the night. ... And what we do is we play the music, and I literally conduct the burners. The pilots are in their balloons, and they fire their burners on my cue. I use lights to conduct them and tell them when to burn, and I make them dance to the music. It's really spectacular.
How did you end up with the name Cheers?
Actually, I wasn't the one who designed our original balloon. ... But the purpose of the name is ... back when the Montgolfier brothers invented the hot-air balloon in the 1700s, they found that as their balloons got better, and they could fly out into the countryside farther, they were getting away from the cities. And the peasants ... would see them coming in and flying over the countryside, and of course they had smoky fires on them at that time, and they would go to their monks and their priests and say, "What the heck is this thing belching fire and smoke coming out of the sky?" And their religious people told them, "Well, surely it must be a demon from hell, so go out there and kill it." They would gather up their pitchforks and their rakes ... and they'd go out there and tear the balloons apart.
So, the pilots, not wanting to lose their expensive balloons, started carrying a bottle of fine French champagne with them when they flew. And as they would come in over these angry peasants ready to tear them apart, they'd lower it on a rope and offer it and let them know that "Hey, we're people, and we built this thing, and we want to show it to you. If you let us land, we'll share this bottle of champagne and have a toast to our wonderful flight."
And as a result, ballooning became known as the champagne sport. And to this day, we still carry a bottle of champagne with us to give as a gift to the land owners who would give us permission to land on their property. Every flight, with the big "Cheers" on the side of our balloon, we're celebrating that toast to the wonderful time we have every time we fly.