Cheers Over California Hot Air Balloons is based in Sacramento, California. We specialize in high visibility corporate marketing events, hot air tether operations, and more, traveling frequently to special events throughout California, Arizona, Colorado, Nevada and Oregon since 1999.
Cheers Over California Hot Air Balloon marketing programs are designed to provide high visibility Brand presence, while creating public relations and media opportunities throughout the Client marketing area using specially designed and branded hot air balloons and airships.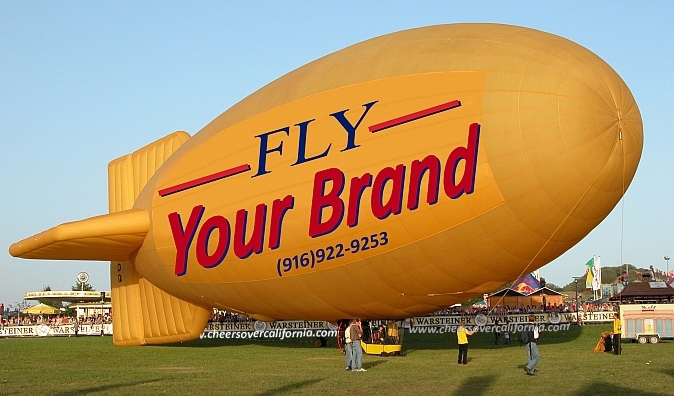 The images above and below illustrate possibilities for elevating your Brand recognition throughout your marketing area, limited only by the scope of your imagination. Check out our Airships and Corporate Programs pages for more information, or contact us today. We would be happy to discuss the options available.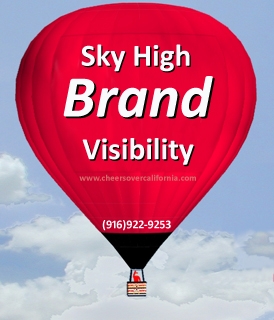 Cheers Over California is the Northern California balloon program operator for RE/MAX of California and Hawaii. We travel with the RE/MAX Hot Air Balloon and other RE/MAX inflatable equipment to promotional events throughout the region from Fresno to the Oregon border. For more information about our corporate operations and how we can help develop a hot air balloon marketing program for you, please visit our Corporate Programs page or contact us any time.
If you are associated with RE/MAX in California and would like more information about our operations, availability, the equipment we operate and how we can help you in your marketing programs, please visit our RE/MAX pages or contact us. For information about the RE/MAX Balloon Program and history, we invite you to visit the RE/MAX corporate site at:



What's in a name? Early French balloonists carried fine champagne as a gift to local citizens who thought the huge, smoking objects descending from the sky must surely be demons and set out after them with pitchforks. The pilot would lower the bottle to the angry hoards below and offer a toast in exchange for safe landing privileges. Because of this, ballooning became known as the "Champagne Sport." To this day, the tradition lives on and balloonists still carry a bottle of Champagne as a gift to friendly landowners. We celebrate this tradition with every flight and offer a toast to all who see our "Cheers" balloons and share in the joy they bring. For a family reunion, company picnic, corporate marketing program or the wonderful experience of a balloon ride over the beautiful farmlands of the Sacramento Valley, we welcome you to come and see the fun that you too can have, ballooning with Cheers Over California.


The Balloonist's Prayer
May the winds welcome you with softness
May the Sun bless you with its warm hands
May you fly so high and so well that God joins you in laughter
And sets you gently back into the loving arms of Mother Earth
So...Want to get involved??
Maybe you have what it takes to join the Cheers Over California team!! Cheers Over California and other local balloonists are frequently looking for people who don't mind missing a few hours sleep to have some real fun. For more information, check out our
"Team"
page or contact us at any time.
We support
Children's Miracle Network
and invite you to support them as well. The
link
we have provided takes you to their donations page where you can donate to CMN directly or you can actually select a specific CMN hospital if you prefer. Either way, your tax deductable donation will be greatly appreciated.